You can return your product within 7 days (Conditions)

If your product is defective / damaged or incorrect / incomplete at the time of delivery, then call our customer service to log a replacement request within 7 days after the delivery. For device-related issues (Electronic) after usage please contact the service center listed on the warranty card included with your product or alternatively check our Brand Contact List (Coming Soon) for more details.

Please keep in mind that this product is not eligible for a replacement / Return if the product is "no longer needed or used".
"No longer needed or Used" means that you no longer have a use for the product / you have changed your mind about the purchase / you do not like the product after opening the package / Return period has been passed after the delivery.

Some more Conditions are applied for the returns / Replacements:

The product must be unused, unworn, unwashed and without any flaws. Fashion products can be tried on to see if they fit and will still be considered unworn.

The product must include the original tags, user manual, warranty cards, freebies and accessories.

The product must be returned in the original and undamaged manufacturer packaging / box.

Before returning a mobile / tablet / electronic devices, the device should be formatted and all the locks should be removed. Otherwise your return will be rejected and will return back to you.

If a product is returned to us in which does not meet with the conditions, we reserve the right to send it back to you.

Note: Please keep in mind that "Change of mind is not applicable". For more information please contact us.
Please sign in so that we can notify you about a reply
Description
Salat Panel SPT-50 Large
Accurate real time clock.

5 Prayer and Jumma Jamat time display.

Jamat Countdown for the last 20 minutes.

Jamat time Auto/Manual update selectable.

Facility for one-time entery of whole year Jamat timings.

Fajr and Maghrib jamat offset.

Option to display for 2nd or 3rd Jumma jamat time.

Eid jamat time before Eid day.

Time limit of current Salah.

Automatic daily update of Maghrib jamat Time.

Jamat Beep to alert Iqamah.

Ishraq and Zawal Time indication.

Hijri/Gregorian date, Hijri year and weekday display.

Count down for Tahajjud, Sunrise, Zawal and Sunset.

During Ramazan, Sehri and Iftar countdown.

Mobile turn-off message during Iqamah time.

Tasbihat (SubhanAllah, Alhamdulillah, Allhoakbar) display minutes before Iqamah.

Selectable Prayer time Calculation Method.

Fajr and Isha prayer time programmable for any twilight angle.

24/12 hour format selection.

Daylight saving ON/OFF option.

Support more than 1300 Cities of the world.

Adjust for any city by entering Latitude, Longitude and Time zone.

Facility to derive Prohibited time indicating bulb.

Facility to drive Sehri/Iftar Siren during Ramazan.

Facility to emboss Masjid name at top of Panel.

Customize prayer time table Programming is possible.

Adjustable Juristic Method like Hanafi, Shafii.

Arabic, English, Urdu, Pushto/Farsi, Portuguese language support

Temperature display.

Jamat time digit color RED/GREEN selectable.

Special Islamic greetings

Remote control setting.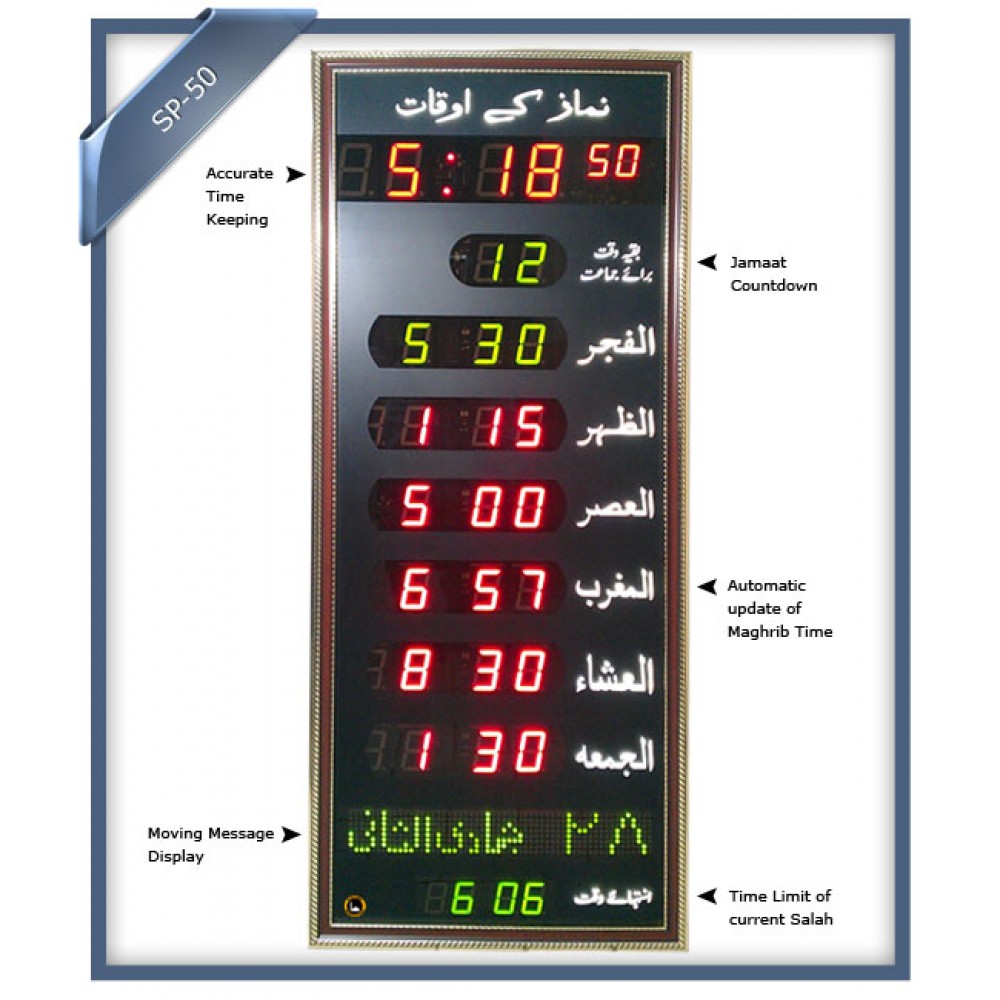 Specifications
What is in the Box?
> :
1 x Salat Panel SP-50 Large