You can return your product within 7 days (Conditions)

If your product is defective / damaged or incorrect / incomplete at the time of delivery, then call our customer service to log a replacement request within 7 days after the delivery. For device-related issues (Electronic) after usage please contact the service center listed on the warranty card included with your product or alternatively check our Brand Contact List (Coming Soon) for more details.

Please keep in mind that this product is not eligible for a replacement / Return if the product is "no longer needed or used".
"No longer needed or Used" means that you no longer have a use for the product / you have changed your mind about the purchase / you do not like the product after opening the package / Return period has been passed after the delivery.

Some more Conditions are applied for the returns / Replacements:
The product must be unused, unworn, unwashed and without any flaws. Fashion products can be tried on to see if they fit and will still be considered unworn.

The product must include the original tags, user manual, warranty cards, freebies and accessories.

The product must be returned in the original and undamaged manufacturer packaging / box.

Before returning a mobile / tablet / electronic devices, the device should be formatted and all the locks should be removed. Otherwise your return will be rejected and will return back to you.

If a product is returned to us in which does not meet with the conditions, we reserve the right to send it back to you.
Note: Please keep in mind that "Change of mind is not applicable". For more information please contact us.
Please sign in to contact the vendor
Description
Huda Beauty Power Bullet Matte Lipstick
Huda Beauty's highly pigmented matte lipstick with unparalleled colour payoff, for unexpected comfort.
Presents in multi variants e.g:
Wedding Day: A super soft caramelized pink (cool toned)
First Kiss: A cute pinky brick (warm toned)
Dirty Thirty: A sassy purply brown (cool toned)
Game Night: A super-hot brown (warm toned)
Girls Trip: A natural cool pink (cool toned)
Prom Night: A pretty biscuit pink (warm toned)
Last Night: A deep chocolate brown (cool toned)
Board Meeting: A spiced cinnamon mocha (warm tone)
Masquerade: A powerfully potent aubergine (cool toned)
Ladies Night: A badass, bold burgundy (warm toned)
Pool Party: A daring and distinguished berry (cool toned)
Pay Day: A dynamic rosy mauve (cool toned)
Third Date: A rebellious rosewood (warm toned)
Joyride: A high-powered dusty rose (cool toned)
Interview: A confident peachy nude (warm toned)
Graduation Day: A commanding vintage rose (warm toned)
Promotion Day: An energic cherry red (cool toned)
El Cinco De Mayo: A powerful sunny red (warm toned)
Bachelorette: A fierce magenta pink (cool toned)
Spring Break: A hot punchy pink (warm toned)
Honeymoon: A cheeky velvet pink (cool toned)
Rendez-Vous: A strong brick pink (warm toned)
Staycation: A sexy fawn latte (cool toned)
Anniversary: A posh pink suede (warm toned)
HUDA'S TIPS:
Use the bullet's pointed tip to contour and line the edges of your lips.

Fill lips in using the bullet's flat base, beginning in the center and smoothing outward to the corners of your mouth.

Build up to your desired level of impact.
The most pigmented of lipsticks, the Huda Beauty Power Bullet collection pushed the envelope for color intensity! This lipstick is so pigmented, the machines in our manufacturer's lab almost broke when trying to make them. The results are so worth it! Every Power Bullet has a unique custom formula that was handcrafted to maximize the color level for all day, full-coverage wear.
It's easy to find your perfect matte rose lip color with shades developed for for warm and cool undertones. Power Bullets come with a custom pointed tip so it's easy to line and contour for a plump matte look. The formula glides on easily for a luscious, cushy feel, without any skipping or dragging.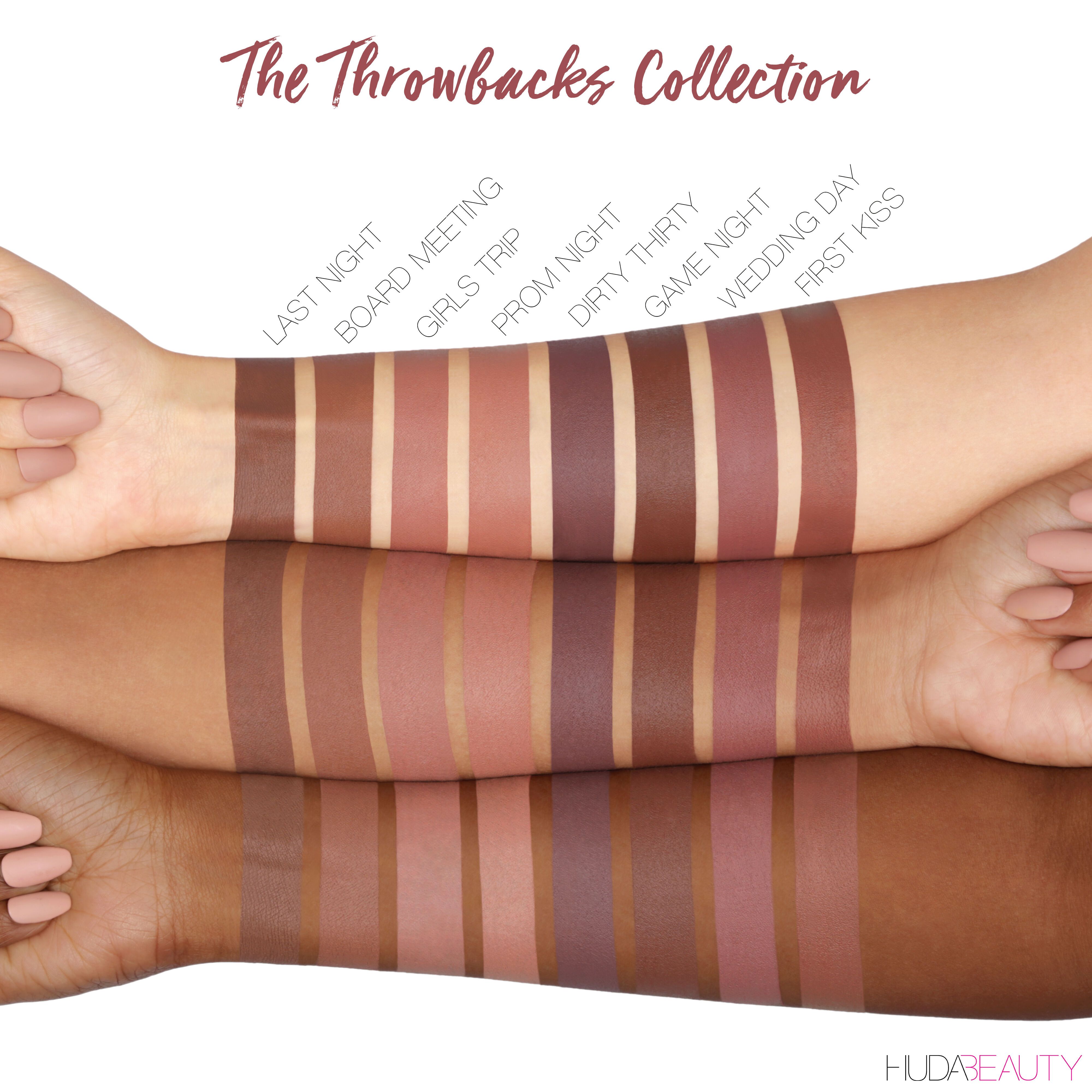 HUDA SAYS:
"We've been developing the Matte Power Bullet for over two years. In the process, we narrowed the shades down from over 100 to a select few warm and cool tones that we believe flatter every skin tone. We wanted to take the guesswork out of finding your perfect rose lipstick, so we made it as easy as possible for the customer. Since it is our first traditional matte lipstick, we knew we had to create something that is beyond what is expected! We individually crafted the formula of each shade to ensure they all deliver the same incredible payoff, finish, and texture. The Power Bullet completely shatters the typical limitations of matte lipsticks!"
Specifications
What is in the Box?
> :
1 x Huda Beauty Power Bullet Matte Lipstick - Wedding Day
Reviews