You can return your product within 7 days (Conditions)

If your product is defective / damaged or incorrect / incomplete at the time of delivery, then call our customer service to log a replacement request within 7 days after the delivery. For device-related issues (Electronic) after usage please contact the service center listed on the warranty card included with your product or alternatively check our Brand Contact List (Coming Soon) for more details.

Please keep in mind that this product is not eligible for a replacement / Return if the product is "no longer needed or used".
"No longer needed or Used" means that you no longer have a use for the product / you have changed your mind about the purchase / you do not like the product after opening the package / Return period has been passed after the delivery.

Some more Conditions are applied for the returns / Replacements:
The product must be unused, unworn, unwashed and without any flaws. Fashion products can be tried on to see if they fit and will still be considered unworn.

The product must include the original tags, user manual, warranty cards, freebies and accessories.

The product must be returned in the original and undamaged manufacturer packaging / box.

Before returning a mobile / tablet / electronic devices, the device should be formatted and all the locks should be removed. Otherwise your return will be rejected and will return back to you.

If a product is returned to us in which does not meet with the conditions, we reserve the right to send it back to you.
Note: Please keep in mind that "Change of mind is not applicable". For more information please contact us.
Please sign in to contact the vendor
Description
HKT C-22 Qualcomm 2200mAh Power Bank - Black
A 22000mAh slim ports power bank
Huge Capacity 22000mAh,Thinner 14.3mm
Enough power to keep you going for weekend. Charge an iPhone 6s 7 times, a Galaxy S6 5 times or an iPad mini4 2 times.Battery.
2A Input
Recharged the power bank full by DC5V-2A adapter within 6 hours.Twice as fast as normal 5V 1A input power banks, saving 50% of your time.
Intelligent Charging Output
Intelligently detects and delivers the optimal charging current for any connected device . (2.0A for iPad mini4,1.5A for Galaxy S6, 1A for iPhone 6s).
To ensure complete safety and best performance, please use the included cable, your original cable or a third-party certified one .
Safer
VP-Power MCU:more advanced safety features keep you and your devices safe( temperature control ,over-charged, over-discharged, over-voltage, over-current and short-circuit protection).
Li-Polymer Cells: Never explode.After 24 months(after 500 charge-discharge cycles), still over 80% of total capacity.
It is 10% more power than the ordinary Lithium-ion cells.
The flame-retardant plastic shell protects the power bank from damage.
Lighter and Thinner
Compare to same capacity 22000mah Li-ion Power Bank, Thinner 14.3mm.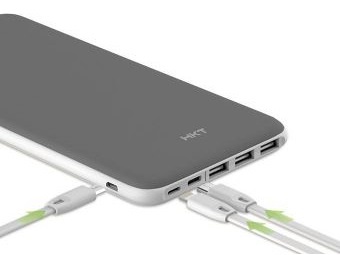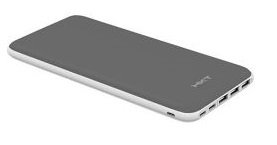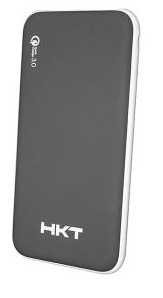 Specifications
More Information
Warranty:
7 Days Replacement Only
MEMORY
Capacity (mAh):
1000 - 2500mAh
What is in the Box?
> :
1 x HKT C-22 Qualcomm 2200mAh Power Bank
Reviews