→ 100% Genuine Product
→ Brand New Products
→ Lowest Online Prices in Pakistan
You can return your product within 7 days (Conditions)

If your product is defective / damaged or incorrect / incomplete at the time of delivery, then call our customer service to log a replacement request within 7 days after the delivery. For device-related issues (Electronic) after usage please contact the service center listed on the warranty card included with your product or alternatively check our Brand Contact List (Coming Soon) for more details.

Please keep in mind that this product is not eligible for a replacement / Return if the product is "no longer needed or used".
"No longer needed or Used" means that you no longer have a use for the product / you have changed your mind about the purchase / you do not like the product after opening the package / Return period has been passed after the delivery.

Some more Conditions are applied for the returns / Replacements:

The product must be unused, unworn, unwashed and without any flaws. Fashion products can be tried on to see if they fit and will still be considered unworn.

The product must include the original tags, user manual, warranty cards, freebies and accessories.

The product must be returned in the original and undamaged manufacturer packaging / box.

Before returning a mobile / tablet / electronic devices, the device should be formatted and all the locks should be removed. Otherwise your return will be rejected and will return back to you.

If a product is returned to us in which does not meet with the conditions, we reserve the right to send it back to you.

Note: Please keep in mind that "Change of mind is not applicable". For more information please contact us.
Please sign in so that we can notify you about a reply
Description
Dermacos Dermapure Multipurpose Grey Cream is a rich top-class blend for multipurpose. Use on any part of the body and get a smooth glowing shiny feeing. Enriched with grey cream that is an amino acid vitamin complex that helps you get a pure white complexion while repair and maintain skin at the same time.

No longer do you have to endure the unpleasant side effects. The surprisingly simple, inexpensive, and powerful answer lies in... Grey Cream

With this sensational new formula you can treat your face, hands, feet and body. Now you can add all-day vitality and protection to their skin. This cream contains 4 vitamins and 26 minerals. Vitamin A gives skin elasticity; vitamin C energizes and vitalizes skin while fighting signs of age. Vitamin E protects the skin from the harmful UV effects while antibacterial pro-vitamin B5 moisturizes and smoothes skin. This fresh, masculine smelling cream will keep your skin looking younger and more attractive all day long.

Need a Hand Cream / Night Cream / Day Cream?
This product acts as possibly the best HAND CREAM in the world!

GREY CREAM can be applied before going to bed at night. This is the best time as the body regenerates itself during sleep.

Recommendation: Use with dermapure/dermafluid botanical ampoule for optimum herbal treatment also use for soothing/moisturizing during facial and other treatment as after wax lotion or other waxing procedure or after bleacing. Highly recommended as anti-inflammatory, anti-fungal, anti bacterial, antitoxic and anti-oxidant.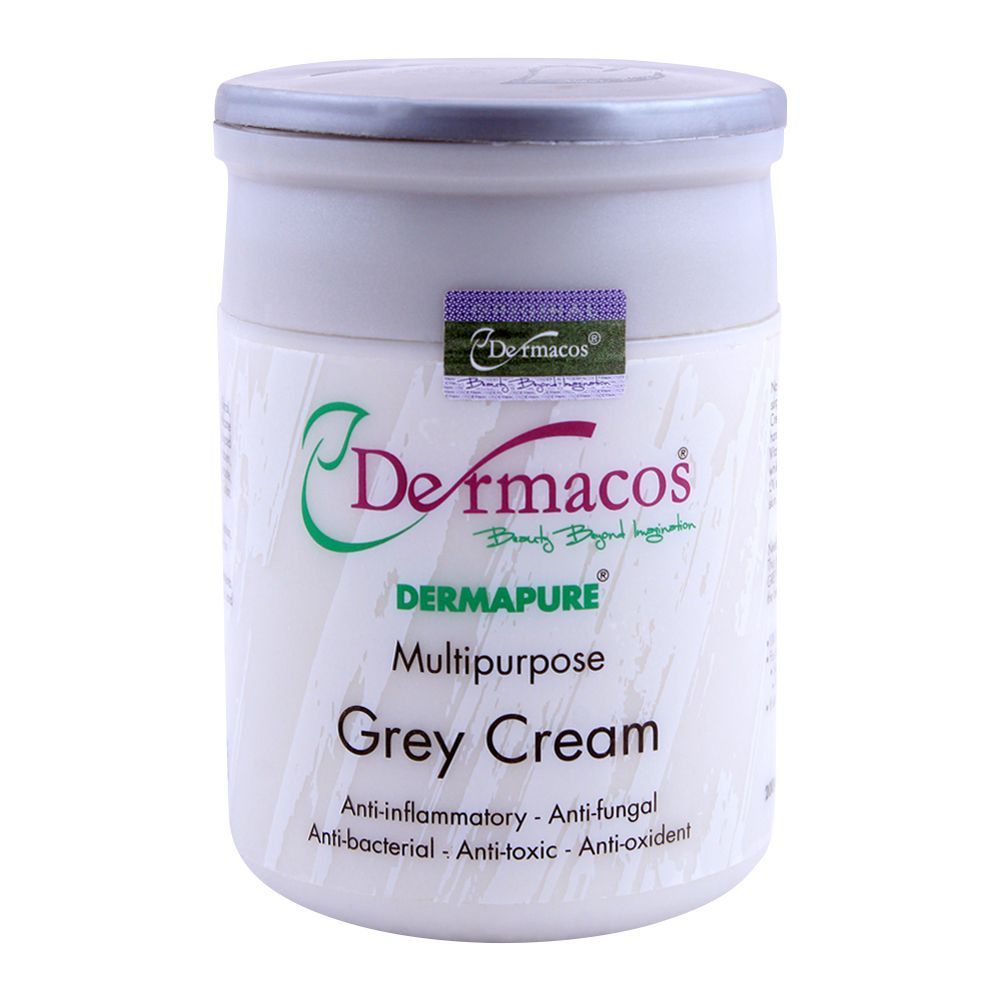 Caution:
100% botanicals - 100% tested and certified - 100% no side effects.

For professional use only or advised by beautician / cosmetologist.

Suitable for all skin types, do not use on wounds or porn skin.

Wash your hands before use, apply only on cleansed skin.

If skin irritation occurs discontinue use and wash with clean water.
Suitable skin conditions: Suitable in all skin conditions, sensitive skin use contiously.
Anti-inflammatory
Anti-fungal
Anti-bacterial
Anti-toxic
Anti-oxident
Ingredients: Aqua, Caprylic/Capric Triglyceride, Isohexdecane, Propylene Glycol, Sodium Cetearyl Sulfate, Cetearyl Alcohol, Dimethicone, Dimethicone copoyol, Myristyl lactate, Triethanolamine, Carbomer, Hydrolyzed Sodium Alginate, Propyl Gallate, Fragrance, Propylparaben, Methylparaben, Ethylparaben, Isobutylparaben, Potassium Sorbate, L-Ascorbic Acid, Alpha Tocopherol, Citric Acid, FD&C Color.

Manufactured By: M.S. Dermacos Laboratories International

Country of Origin: Product of UK

Product Weights:
7 OZ (200 Grams)
17.63 OZ (500 Grams)
Storage Instructions: Store in cool dry place below 30°C.

Package: Jar
Specifications
product information
Collection:
Multipurpose Creams
1 Offers starting from 310