→ 100% Genuine Product
→ Brand New Products
→ Lowest Online Prices in Pakistan
You can return your product within 7 days (Conditions)

If your product is defective / damaged or incorrect / incomplete at the time of delivery, then call our customer service to log a replacement request within 7 days after the delivery. For device-related issues (Electronic) after usage please contact the service center listed on the warranty card included with your product or alternatively check our Brand Contact List (Coming Soon) for more details.

Please keep in mind that this product is not eligible for a replacement / Return if the product is "no longer needed or used".
"No longer needed or Used" means that you no longer have a use for the product / you have changed your mind about the purchase / you do not like the product after opening the package / Return period has been passed after the delivery.

Some more Conditions are applied for the returns / Replacements:

The product must be unused, unworn, unwashed and without any flaws. Fashion products can be tried on to see if they fit and will still be considered unworn.

The product must include the original tags, user manual, warranty cards, freebies and accessories.

The product must be returned in the original and undamaged manufacturer packaging / box.

Before returning a mobile / tablet / electronic devices, the device should be formatted and all the locks should be removed. Otherwise your return will be rejected and will return back to you.

If a product is returned to us in which does not meet with the conditions, we reserve the right to send it back to you.

Note: Please keep in mind that "Change of mind is not applicable". For more information please contact us.
Please sign in so that we can notify you about a reply
Description
Dermacos Microdermabrasion Guava Glow Scrub 200g
Nourishing, natural guava scrub mildly exfoliates skin and activates cell turnover, helping to reduce the appearance of fine lines and wrinkles. It provides antioxidants and brighteners and leaves skin clean, smooth and energized. The new "Microdermabrasion" system remove dead cells and dribs from face without itching and pain like ordinary scrubs and help skin to regenerates new cells also vitalize the skin without dryness.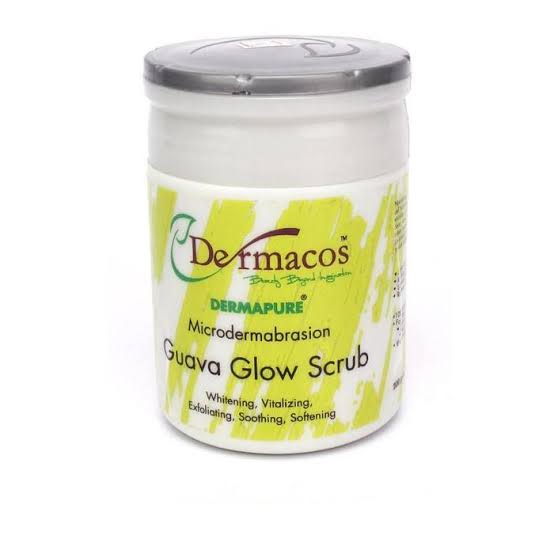 Unique Features & Benefits:
Guava Fruit Puree: Antioxidant, Exfoliates

Kojic Acid, Azelaic acid, Arbutin, Morus Alba Bark Extract: Skin Whitening

L-Ascorbic acid: Antioxidant and natural brightener

Raspberry seesd, jojoba beds, Fruit enzymes: polishes, exfoliates
Caution:
100% Botanicals - 100% tested and certified - 100% no side effects.
For professional use only or advised by beautician/cosmetologist.
Suitable for all skin types, do not use on wounds or porn skin.
Wash your hands before use, apply only on cleansed skin.
If skin irritation occurs discontinue use and wash with clean water.
Reconmmendation: Apply on entire face and rub in circular motion for 10 to 20 minutes, removes with help of warm water dipped sponge or cotton ball. Use 2-3 times weekly after cleansing. Note that natural color changes will occur over time; it will not effect the efficacy of this scrub.
Suitable skin conditions: Suitable in all skin conditions, sensitive skin use continuously.

Ingredients: Aqua, Glycerin, Wsidium Guajava (White Guava) Fruit Beads, Hamamelis Virginiana (Witch Hazel), Kojic Acid, Arbutin, Glycerin, Guava Meal Beads, Xanthan Gum, Azelaic Acid, Rubus Idaeus (Raspberry), L-ascorbic Acid, Gamma Amino Butyric Acid (GABA), Morus Alba Bark Extract, Psidium Guajava Oil, Citrus Sinensis Var. Sanguina Oil, Passiflora Incarnata Flower Extract, Fruit Enzymes, Gluconolactone, Sodium Benzoate, Glycerin, Sodium Metabisulfite, Propyle Glycol, PEG – 6000, Polysorbate 20, Tween 80, Propylparaben, Methylparaben, Ethylparaben, Isobutylparaben, Potassium Sorbate, L-Ascorbic Acid, Alpha Tocopherol, Citric Acid, Fragrance (Perfume), FD&C Color.
Manufactured By: M.S. Dermacos Laboratories International

Country of Origin: Product of UK

Product Weights:
6.7 FL OZ (200 Grams)
16.90 FL OZ (500 Grams)
Storage Instructions: Store in a cool dry place.

Package: Jar
1 Offers starting from 340