→ 100% Genuine Product
→ Brand New Products
→ Lowest Online Prices in Pakistan
You can return your product within 7 days (Conditions)

If your product is defective / damaged or incorrect / incomplete at the time of delivery, then call our customer service to log a replacement request within 7 days after the delivery. For device-related issues (Electronic) after usage please contact the service center listed on the warranty card included with your product or alternatively check our Brand Contact List (Coming Soon) for more details.

Please keep in mind that this product is not eligible for a replacement / Return if the product is "no longer needed or used".
"No longer needed or Used" means that you no longer have a use for the product / you have changed your mind about the purchase / you do not like the product after opening the package / Return period has been passed after the delivery.

Some more Conditions are applied for the returns / Replacements:

The product must be unused, unworn, unwashed and without any flaws. Fashion products can be tried on to see if they fit and will still be considered unworn.

The product must include the original tags, user manual, warranty cards, freebies and accessories.

The product must be returned in the original and undamaged manufacturer packaging / box.

Before returning a mobile / tablet / electronic devices, the device should be formatted and all the locks should be removed. Otherwise your return will be rejected and will return back to you.

If a product is returned to us in which does not meet with the conditions, we reserve the right to send it back to you.

Note: Please keep in mind that "Change of mind is not applicable". For more information please contact us.
Please sign in so that we can notify you about a reply
Description
DERMACOS DERMAPURE DUST-FREE FACIAL BLOND BRIGHTENER
Facial Blond Brightener Powder works extra-fast lightening, extra moisturizing formula. Lets you create lustrous highlights and special effects in no time at all. Takes blondes to paler-than-pale...reveals up redheads brightens-up brunettes. Dust free, denser powder minimizes ruff & fly-away to makes your applications neater and cleanser. Contain a moisture sealing humectants to start every application with easy mixing and a creamy-smooth consistency that stays. Perfect for longer brightening and even skin tone.

Unique Features & Benefits:
Extremely gentle on skin

Ammonia free formula

Infused with built-in reconstructors

Quick lightening action

Effective to lift past skin discoloration

Repair damaged skin

Wheat protein base for silky smooth results
Caution:
100% botanicals - 100% tested and certified - 100% no side effects.
For professional use only or advised by beautician / cosmetologist.
Suitable for all skin types, do not use on wounds or porn skin.
Wash your hands before use, apply only on cleansed skin.
If skin irritation occurs discontinue use and wash with clean water.
Recommendation: Pour dust free facial blond brightener powder into a non-metallic bowl with facial blond activator peroxide at the ratio of 1:2 and stir into rich creamy consistency. Heat may be applied to speed up the processing time. Add additional developer if needed. Apply to desired areas. Leave on till desire result. Apply smoothing toner to normalize.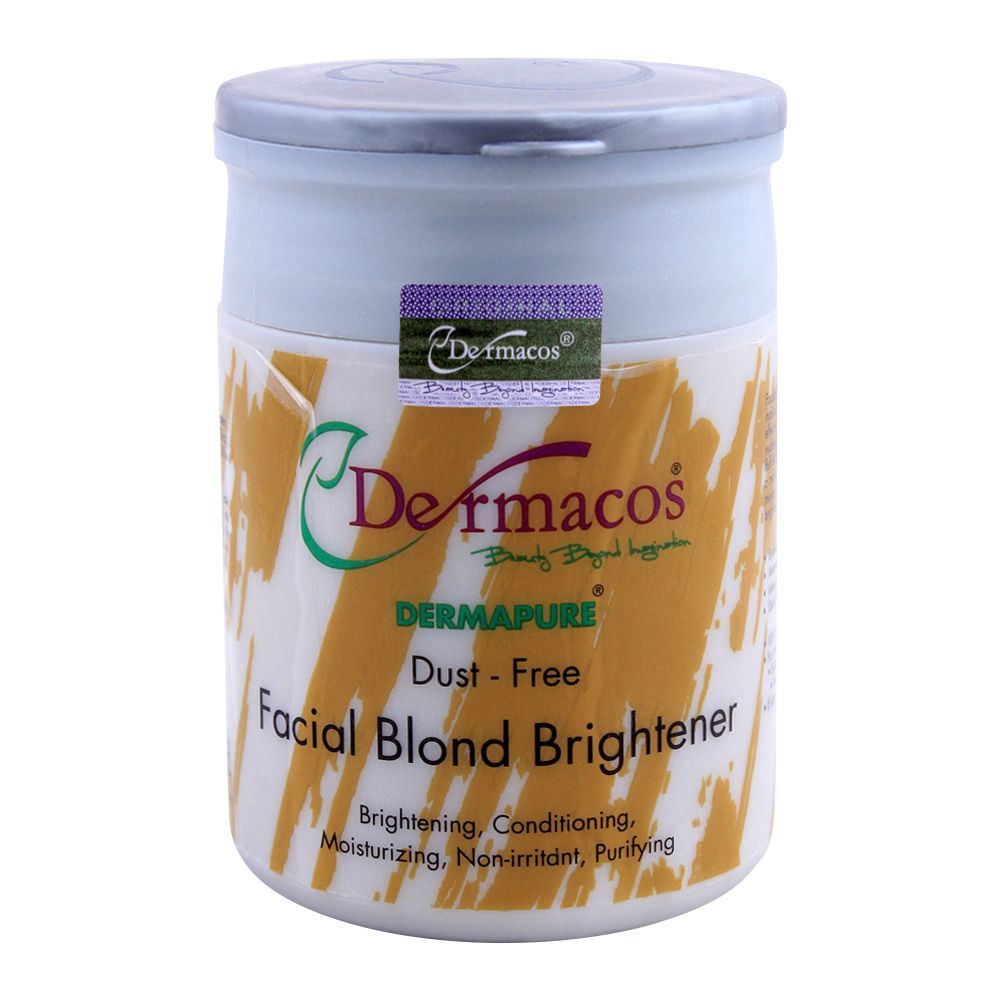 Suitable Skin Conditions: Suitable for all types of skin, especially sensitive, dry and asphyxiated skin.
Brightening
Conditioning
Moisturizing
Non-Irritant
Purifying
How to Apply: Pour dust free facial blond brightener powder into a non metallic bowl with Facial Blond Activator Peroxide at the ratio 1:2 and stir into rich creamy texture. Add additional developer if needed. Apply to desire areas and leave till 10 to 15 minutes or desire result time.

Manufactured By: M.S. Dermacos Laboratories International

Country of Origin: Product of UK

Product Weights:
6.7 FL OZ (200 Grams)
16.90 FL OZ (500 Grams)
Storage Instructions: Store in a cool dry place.

Package: Jar
1 Offers starting from 330