Get more shipping discounts at checkout
Cash on Delivery

Telenor easypaisa

Mobilink Jazzcash

Online Banking / ATM
100% Original Items

Overnight Quick Delivery

7 Days Free Returns

Official Brand Warranty

Authentic Supplier

Official Distributer
You can return your product within 7 days (Conditions)

If your product is defective / damaged or incorrect / incomplete at the time of delivery, then call our customer service to log a replacement request within 7 days after the delivery. For device-related issues (Electronic) after usage please contact the service center listed on the warranty card included with your product or alternatively check our Brand Contact List (Coming Soon) for more details.

Please keep in mind that this product is not eligible for a replacement / Return if the product is "no longer needed or used".
"No longer needed or Used" means that you no longer have a use for the product / you have changed your mind about the purchase / you do not like the product after opening the package / Return period has been passed after the delivery.

Some more Conditions are applied for the returns / Replacements:

The product must be unused, unworn, unwashed and without any flaws. Fashion products can be tried on to see if they fit and will still be considered unworn.

The product must include the original tags, user manual, warranty cards, freebies and accessories.

The product must be returned in the original and undamaged manufacturer packaging / box.

Before returning a mobile / tablet / electronic devices, the device should be formatted and all the locks should be removed. Otherwise your return will be rejected and will return back to you.

If a product is returned to us in which does not meet with the conditions, we reserve the right to send it back to you.

Note: Please keep in mind that "Change of mind is not applicable". For more information please contact us.
Please sign in so that we can notify you about a reply
Description
Dany Gravity Mobile Holder - GH50
Dany introduces Gravity Holder to ensure your travelling becomes as easy as possible. It is stylish and has a smooth grip. Fits easily and suitable for every mobile. Enjoy using cellphones while driving without hurdles. This remarable gravity holder comes under 1 year warranty.
Multiple Viewing Angle:
A ball joint allows you freely adjust to get the most comfortable viewing angles. Universal phone compatibility.
Press to Lock:
A reserved port enables you to easily install the mount on air ven. Press to securely install.Lengthened clip enhances universality. Air vent mount mobile holder.
Auto Lock:
Unique gravity linkage design enables you to keep your phone simply in place and provides ease of use. Auto lock according to mobile size.
Wide Compatibility:
It supports most of the smartphones with width between 57mm to 83mm. High flexibility and firm and safe grip.
Safe and Stable:
The support and arms firm a most stable triangle structure that securely holds your phone even during quick turns and speed bumps.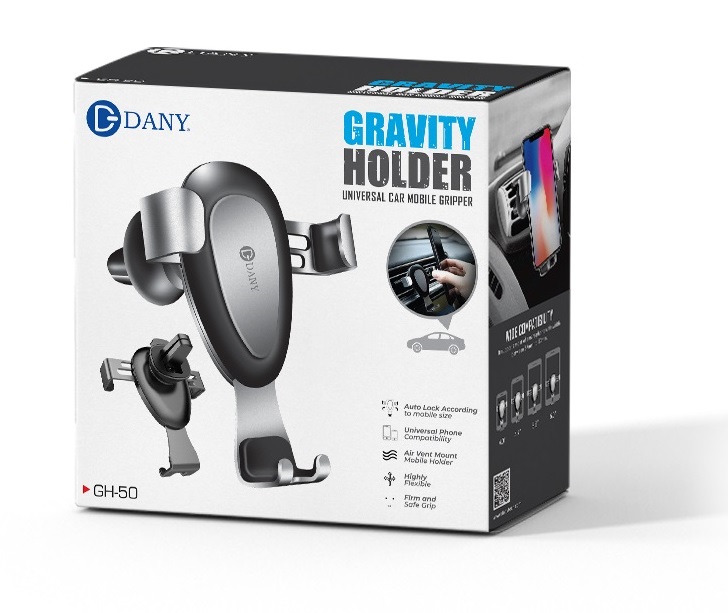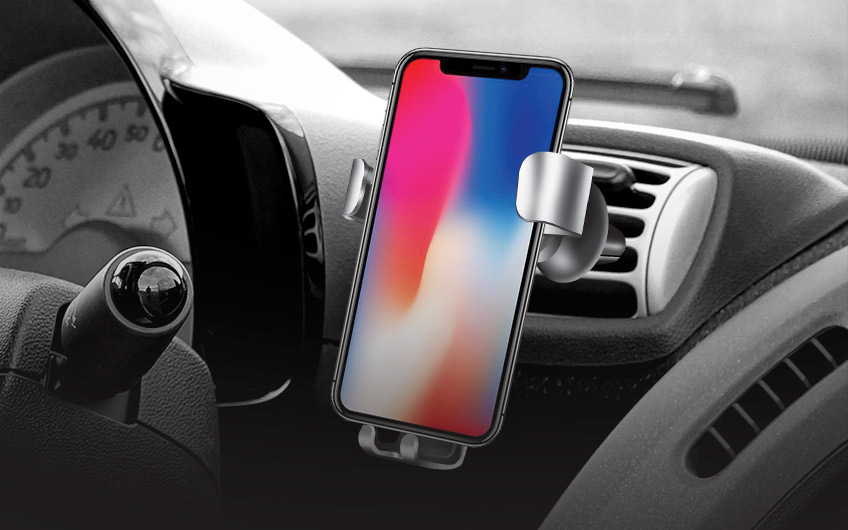 Specifications
More Information
Warranty:
7 Days Replacement Only
What is in the Box?
> :
1 x Dany Gravity Mobile Holder - GH50