Cash on delivery
Telenor Easypaisa
Mobilink Jazzcash
Online Banking / ATM
100% Original Items
7 Days Free Return
Overnight Shipping
Secure Shipping
Dedicated Support
You can return your product within 7 days (Conditions)

If your product is defective / damaged or incorrect / incomplete at the time of delivery, then call our customer service to log a replacement request within 7 days after the delivery. For device-related issues (Electronic) after usage please contact the service center listed on the warranty card included with your product or alternatively check our Brand Contact List (Coming Soon) for more details.

Please keep in mind that this product is not eligible for a replacement / Return if the product is "no longer needed or used".
"No longer needed or Used" means that you no longer have a use for the product / you have changed your mind about the purchase / you do not like the product after opening the package / Return period has been passed after the delivery.

Some more Conditions are applied for the returns / Replacements:

The product must be unused, unworn, unwashed and without any flaws. Fashion products can be tried on to see if they fit and will still be considered unworn.

The product must include the original tags, user manual, warranty cards, freebies and accessories.

The product must be returned in the original and undamaged manufacturer packaging / box.

Before returning a mobile / tablet / electronic devices, the device should be formatted and all the locks should be removed. Otherwise your return will be rejected and will return back to you.

If a product is returned to us in which does not meet with the conditions, we reserve the right to send it back to you.

Note: Please keep in mind that "Change of mind is not applicable". For more information please contact us.
Please sign in so that we can notify you about a reply
Description
10 meter (length) x 1 Meter (width) bubble wrap sheet double layer (875g)
Wrap your item in bubble for the most peace of mind during your move or while shipping items. There are so many fragile items in a house that not all of it get through the move unscathed. To avoid that from happening, wrap your fragile items with bubble. The small bubble provides more protection from vibrations and impact while being jostled in boxes in a moving truck. While shipping items, bubble the items to lessen to rough treatment mailing services may cause.
Doule Layer High Quality Bubble Wrap 393.7" (length) x 39.37" (width)
Your souvenirs, big and small, fall into the hands of folks from near and far – but no matter the distance, they are always wrapped – protecting with bubble packaging material, followed by tissue paper, placed in a box, taped and finally inserted into a paper sack with handles.
Wrap mirrors, sconces, perfume bottles, and cake plates before placing in boxes

Keep packing paper on hand to fill any voids in the boxes

Recycle bubble roll to help your designer purses keep shape

No more blisters: Use bubble rolls on gardening tools, mops, and other household cleaning tool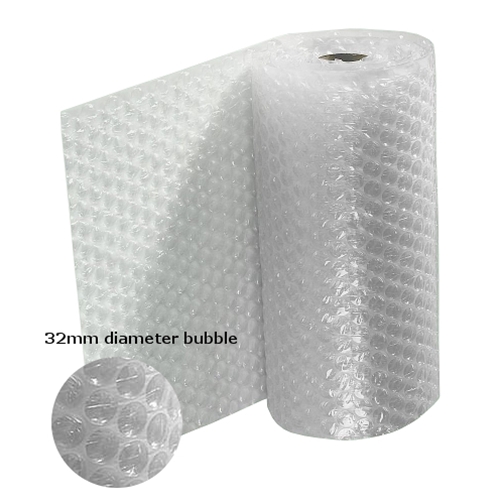 Specifications
What is in the Box?
> :
10 Meter x 1 Meter Bubble Wrap Sheet