Shipping Cost based on your selected payment method and shipping services.

Advance Payment Can Save More Shipping
Cash on delivery
Telenor easypaisa
Mobilink Jazzcash
Online Banking / ATM
100% Original Items
Overnight Quick Delivery
7 Days Free Returns
Official Brand Warranty
Authentic Supplier
Official Distributer
You can return your product within 7 days (Conditions)

If your product is defective / damaged or incorrect / incomplete at the time of delivery, then call our customer service to log a replacement request within 7 days after the delivery. For device-related issues (Electronic) after usage please contact the service center listed on the warranty card included with your product or alternatively check our Brand Contact List (Coming Soon) for more details.

Please keep in mind that this product is not eligible for a replacement / Return if the product is "no longer needed or used".
"No longer needed or Used" means that you no longer have a use for the product / you have changed your mind about the purchase / you do not like the product after opening the package / Return period has been passed after the delivery.

Some more Conditions are applied for the returns / Replacements:

The product must be unused, unworn, unwashed and without any flaws. Fashion products can be tried on to see if they fit and will still be considered unworn.

The product must include the original tags, user manual, warranty cards, freebies and accessories.

The product must be returned in the original and undamaged manufacturer packaging / box.

Before returning a mobile / tablet / electronic devices, the device should be formatted and all the locks should be removed. Otherwise your return will be rejected and will return back to you.

If a product is returned to us in which does not meet with the conditions, we reserve the right to send it back to you.

Note: Please keep in mind that "Change of mind is not applicable". For more information please contact us.
Please sign in so that we can notify you about a reply
Description
AUDIONIC THUNDER C-TYPE Earphones - T90
The exceptionally designed THUNDER Earphone is a perfect combination of form and function that allow you to enjoy music privately and with high quality sound. It meets your music and fashion needs at the same time. These stereo earphones come with a remote access with built-in MIC that allows you to easily switch to calls while enjoying music. You can receive calls on your Bluetooth-enabled phone while doing your activity like driving, jogging, exercising, office work etc. It has a drive unit of 10mm that convert electric signals into sound for you more rapidly. With the impedance of 16 , require little power to deliver for you.
Comfortable:
The innovative and revolutionary earphones guarantee a perfect fit and comfort. Combined with extraordinary features it is fine-tuned for your listening setup.
Premium Sound:
Delivers a powerful and clear sound, drench your ears in song-defining and vibrant highs.
Durable:
Featured with a simple track control and a universal , the tangle-free and flat cable offers an added strength when things get out of control.
Remote:
Stereo earphones offer remote access with built-in MIC that allows you to easily manage your calls while enjoying music.
Long Hours Usage:
Its comfortable ear tips perfect and comfortable for hours of listening enjoyment.
Sweat Proof:
It offers against damage from sweat and provide a long battery life to be used with ease.
Compatibility:
Compatible with any Type-C port smartphones or tablets which doesn't include 3.5mm audio input. In other words it shall only be compatible with the devices who have only Type-C Ports. For any further details you may contact us.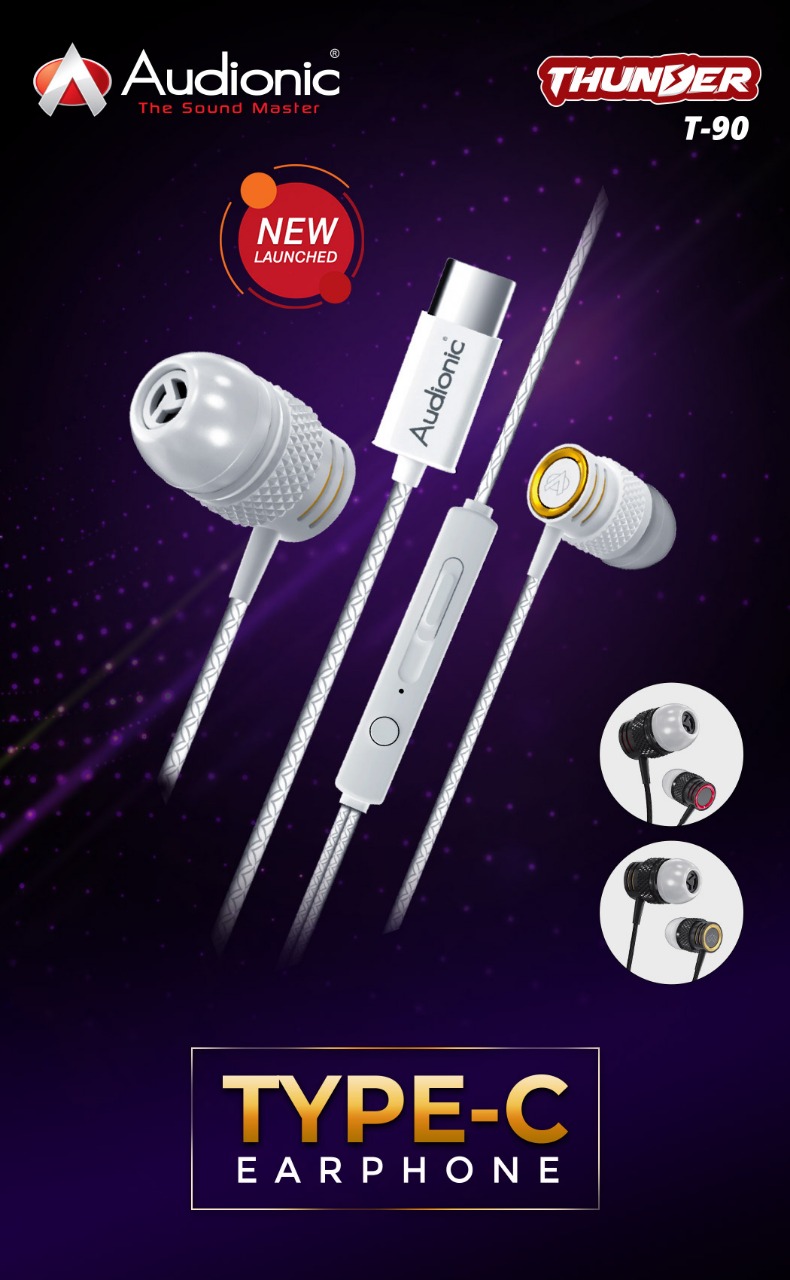 Specifications
More Information
Warranty:
7 Days Checking Warranty
What is in the Box?
> :
1 x Audionic T-90 Handsfree
> :
1 x Packet earbuds (4 PCS)